Tanabata Jirachi • OT: たなばた • ID No. 180801 • Pokémon Center Tohoku • Japan 2018 Event
2018 Tanabata Jirachi 
OT: たなばた • ID No. 180801
This event Jirachi was distributed to Pokémon Sun, Moon, Ultra Sun & Ultra Moon players via local wireless at Pokémon Center Tohoku in Japan from August 1 to 31, 2018 to celebrate the Tanabata Festival. 

What makes this event Jirachi special?
At a low Level 15, it already learns Healing Wish, a move it normally learns at Level 50.
ORDER CHOICES
UNTOUCHED (ORIGINAL)
Level 15 (cannot be below 15)
Non-shiny

 

(cannot be shiny)
Random Nature
Random IVs, 0 EVs
Original event moves: 

Wish, Swift,

 

Healing Wish,

Hidden Power

 --> PP non-maxed
Ability:

 

Serene Grace (cannot be altered)
Held Item:

 

Star Piece
Ribbon: Classic (cannot be altered)
CUSTOMIZED
Your choice for Level, IVs, EVs, Nature, Moves, Nickname, etc. (changing permanent values such as OT and the ones emphasized in parentheses above will render the event Pokémon illegal)
USEFUL LINKS
Customer Reviews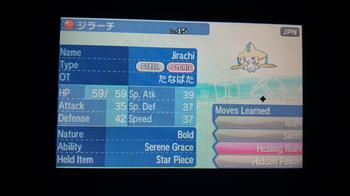 10/17/2020
I recommend this product
Awesome work, fellas
As always pokefella always delivers swiftly. thanks so much will order again soon
Vic R.

Philippines
03/24/2020
I recommend this product
I m loving it
3rd time bought from them its been so nice. On time and fast delivery. Customer care is also good they usually reply in 4 5 mins.
Saahil R.

India
03/07/2020
I recommend this product
Marijans Review Jirachi
Pretty awesome tbh, love the Pokémon! Easy trade, good price, definitely worth it!
Marijan B.

Germany
03/03/2020
Damn good price and service
Bought it alongside other five pokemons. I thought "well, if I'm scammed at least it won't be that bad, with those prices", but holy cannoli, had a better service here than I had in many other "legit" sites, and it was quick: I had a question, they answered, and I think less than five minutes I had it good to go.
Joao P.

Brazil
02/22/2020
I recommend this product
This guy?
Let me tell you about Pokefella. Use them. Use them at every available opportunity. Customize, order as-is, order slightly tweaked or order basically a completely different Pokemon. Whatever it is that you choose to do will be money well spent. In a world where money is easy to waste on hobbies, this particular website never feels like a waste, never a rip-off. You get exactly what you paid for and then some. They come strongly recommended, if you have the money, invest it in this.
Justin C.

United States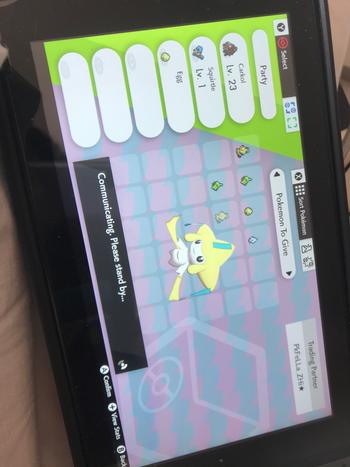 02/19/2020
I recommend this product
Awesome
The excitement when you get your LV 100 OP Pokémon for just a dollar
PokeFB

Japan
08/26/2018
:D
Order completed within a matter of minutes. Amazing service :)
POKÉMON GAME VERSIONS SERVICEABLE BY POKÉFELLA