All 50 Mega Evolution Pokemon • Shiny, 6IVs, Battle-ready, Level 100
Mega Evolution Pokémon • Mega Collection
BUILD CHOICES
PRE-MADE (as pictured)
Shiny (non-shiny available upon request)
Level 100
6IVs (Outstanding Potential)
EV trained, battle-ready 
Competitive Moves Learned (PP all maxed)
with Egg Moves (moves that are otherwise not learned by Pokémon by leveling up but through breeding)
Pokérus-infected for your other Pokémon's benefit
CUSTOMIZED
If you want to customize the Level, IVs, EVs, Nature, Moves, Nickname, etc., please use the listing Any Custom Pokemon.
Reminder: When ordering mons in Pokefella Build, some Moves and Held Items will be altered (upon genner's discretion) if they are not available in your game version in which they will be received at. Square shinies only available in Sword/Shield.

USEFUL LINKS
Customer Reviews
CC
Christopher C.

United States
I recommend this product
04/01/2021
First Time Buyer-- Safe, Reliable, and Helpful
So, I had a Mew I earned in Pokemon Go. I realllly wanted to get my Mew into SwSh, but as you can imagine, getting someone to touch trade their Mew to me was not easy. Someone suggested buying a hacked Mew and then deleting it just to get the dex entry. I basically dismissed that idea as sketchy at first. Well, after not being able to find anyone to trade with me, I decided to cautiously look into it. When I say that it would only cost $1, I was interested. I wanted to see where it would go and if it would be a scam. I then saw that checkout was through Paypall-- a neutral thrid party escrow, so I wouldn't have to type my card info directly into Pokefella's website, that made me feel a lot better too. I placed my order, and within 10 minutes , I got an email saying my order was ready (email was in the promotions tab of Gmail, so keep your eyes peeled.) I reached out with my order number on Facebook Messenger, we set up a link trade, and bam! I had the dex entry I needed. I am so happy to have my little pink friend in SwSh!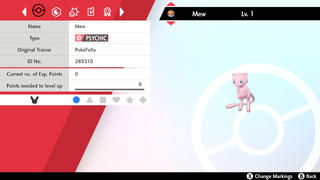 Glad to have been of help to you. Thank you so much for trusting Pokefella.
Abel B.

Colombia
I recommend this product
08/30/2020
Great
I bought a shaymin and a diancie and the transfer was very fast and it was how I wanted them
Darren K.

Ireland
I recommend this product
08/08/2020
Service excellence
Quick and easy transaction and trade can see myself making further purchases in the future. Thank you
Efren C.

Philippines
I recommend this product
Azrael
I recommend this product
POKÉMON GAME VERSIONS SERVICEABLE BY POKÉFELLA