Any Custom Pokémon for Sword & Shield, Let's Go PE, USUM, SuMo, ORAS, XY
Get any Pokémon exactly the way that you want them to be. You can decide for their Level, IV build and EV spread (competitive, battle-ready), attack moves, rarity (shiny or not), Held Item, gender, even OT name, and a lot more!

This Pokémon custom genning service is available only in the following game versions:
✔️Gen VI: Pokémon X / Y (X/Y); Omega Ruby / Alpha Sapphire (ORAS)
✔️Gen VII: Pokémon Sun / Moon (SuMo); Ultra Sun / Ultra Moon (USUM)
✔️Gen VII: Pokémon Let's Go, Pikachu! / Pokémon Let's Go, Eevee! (LGPE)
✔️Gen VIII: Pokémon Sword / Pokémon Shield (SwSh)

IMPORTANT:
All orders placed on

SHOWDOWN FORMAT 

but does not follow the correct Showdown format will not be processed, and will be advised to pay for 

MANUAL FORMAT 

instead.
FORMAT CHOICES
SHOWDOWN FORMAT
is encouraged for faster genning and lesser errors. A correct Showdown format is significantly important as an erroneous one cannot be processed by the genning application. A correct format should look like this (if the Pokemon comes with a nickname):
Aaliyah (Alakazam) (F) @ Twisted Spoon
Level: 50
Ability: Magic Guard
Shiny: Yes
IVs: 0 Atk
EVs: 4 HP / 252 SpA / 252 Spe
Modest Nature
- Psychic
- Protect
- Calm Mind
- Shadow Ball
To do the Showdown format:
Step 1: Go to play.pokemonshowdown.com/teambuilder
Step 2: Click New team > Select a format > ex. Sw/Sh Singles - Anything goes > Add pokemon
Step 3: After tweaking details, click "Import/Export" and copy the detailed text and paste it on the Note Box upon checkout here in Pokefella.
Note:
Remember to save a copy of the Showdown format of your Pokemon, especially for huge orders as the Note Box has a limited number of characters allowed. If the details won't fit in the Note Box, you can always send them through our Facebook Messenger or via email.
Please place additional notes like the type of Ball the Pokemon is contained in and the OT after the format, not in the middle.
MANUAL FORMAT
If you're not familiar with Showdown format please choose this format
and provide us the details of the Pokemon
in any way you like
, or you can follow the guide below. This format is, however, tedious and takes longer process on the genner's part , hence, the slightly higher service charge.
Pokémon:

Nickname:

Form: (if applicable)

Level:

Gender:

Shiny: Yes/No (some Pokémon are shiny-locked in certain game versions)

Held Item: (other items may make Pokémon non-tradeable to specific games, Z Crystals are automatically removed during the trading process)

Ability:

Attack Moves:

Nature:

EV spread:

IVs:

Language: (remove or leave blank if this doesn't matter to you)

Pokérus infection: Yes/No

Type of ball:

Original Trainer (OT) name:

ID No.:

Note: Details that are not filled or specified shall be set to default or upon the genner's discretion. However, our genners will always try their best to contact you for clarifications.
Reminder: When ordering mons in Pokefella Build, some Moves and Held Items will be altered (upon genner's discretion) if they are not available in your game version in which they will be received at. Square shinies only available in Sword/Shield.

USEFUL LINKS
Customer Reviews
Nathan L.

Canada
I recommend this product
04/15/2021
Extremely reliable and fast, as always
I've made several purchases from this site, and every time the experience is great. They're ready in no time, and always communicate well to make sure they're giving you exactly what you ordered.
Armand A.

United States
I recommend this product
04/12/2021
True to their word and value
Awesome pricing and true to their word. They helped me out very fast and extremely friendly. Honest to god I thought it was a scam but seeing how they kept their word made me trust them. And trust when I say they're top quality. Now where can I show off my zekrom ****** this dude is beautiful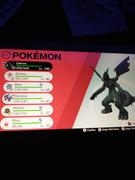 C.K. Cooper

United States
I recommend this product
04/02/2021
Fast and easy
Within maybe ten minutes of placing my order I was contacted through Facebook and the trade was set up. Got the exact Pokes I needed fast and easy. Highly recommended.
Eden M.

United Kingdom
I recommend this product
MJ
Michael J.

United States
I recommend this product
POKÉMON GAME VERSIONS SERVICEABLE BY POKÉFELLA