Giovanni's Mewtwo • OT: Giovanni • ID No. 190801 • TCG Unified Minds Tie-In • Europe 2019 Event

Giovanni's Mewtwo
OT: Giovanni • ID No. 190801
This event Mewtwo was distributed via serial code to Pokémon Let's Go, Pikachu! and Let's Go, Eevee! players at the Smyths store in United Kingdom and Germany and at PicWicToys stores in France to promote the new TCG expansion, Sun & Moon--Unified Minds. The codes could be used to redeem the Pokémon from August 9, 2019 to April 30, 2020.
What makes this event Mewtwo special?
This is the second time Mewtwo is given as an event Pokémon in Pokémon Let's Go, Pikachu! and Let's Go, Eevee!
(Looking for a specific event Pokémon not listed in this shop? Try the listing: Any Event Pokémon).
ORDER CHOICES
UNTOUCHED (ORIGINAL)
Level 70 (technically illegal if below this level)
Non-shiny (cannot be shiny)
Any Nature
Random three 31 IVs, max AVs
Original event moves:

Amnesia, Psychic, Teleport,

 

Recover

 --> all PP non-maxed 
CUSTOMIZED
Your choice for Level, Nature, IVs, EVs, Moves, Date Met, Nickname, etc. (changing permanent values such as OT and the ones emphasized in parentheses above will render the event Pokémon illegal)
USEFUL LINKS
Customer Reviews
08/18/2020
I recommend this product
Event Mewtwo
The original event Pokémon. 100% quality and speed of service! Thank!
コニー・ペティリャ

Turkey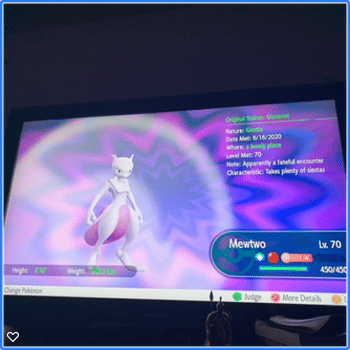 06/18/2020
I recommend this product
Exactly as expected
I am very happy with this. I ordered the Original and Untouched version. I even went online to find all the event specific details for this specific mon, and what I recieved was EXACTLY perfect. Not to mention the service was very fast! Consider me totally satisfied.
Matthew

United States
03/24/2020
I recommend this product
Great Service!
They actually help you with the process. Very patient too!
De G.

Philippines
03/04/2020
I recommend this product
Giovanni's Mewtwo
It's like you just redeemed it from the game itself, Nice work!
Lanz K.

Philippines
10/25/2019
I recommend this product
Excellent Service!
Was very happy with my purchase! Exactly as advertised!
M S.

Sri Lanka
POKÉMON GAME VERSIONS SERVICEABLE BY POKÉFELLA