Stakataka (UB Assembly) | Battle-ready, 6IVs, Level 100
PRE-MADE (as pictured):- Shiny or non-shiny- Level 100- Outstanding Potential 
(5IVs, 0 IV in Speed for better Trick Room)
- EV trained, battle-ready- Competitive Moves Learned (PP all maxed)- Pokérus-infected for your other Pokémon's benefit
=======================================
CUSTOMIZED:
- If you want to customize the Level, IVs, EVs, Nature, Moves, Nickname, etc., please use the listing Any Custom Pokemon.
=======================================
USEFUL LINKS
Customer Reviews
06/29/2020
I recommend this product
Lightning fast service
PokeFella had my purchase of UBs ready within less than an hour, delivered to my Pokemon Home account with zero issued. They even included a couple bonus mon for my first transaction. I highly recommend their genning services for anyone in need of rounding out their National Dex that doesn't have time to play through a single game for 4 UBs. Thanks again PokeFella!
Deveau

United States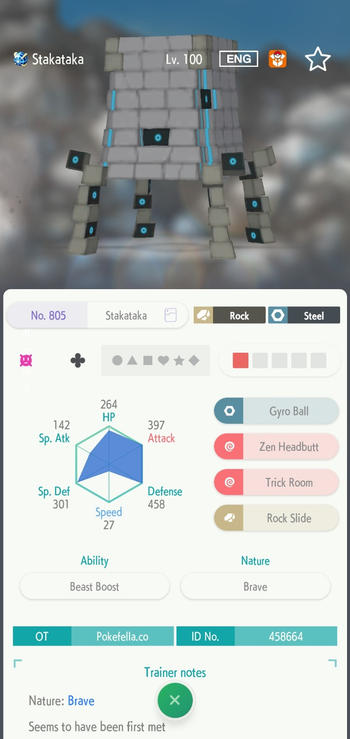 02/16/2020
I recommend this product
Amazing work
Awesome set of pokemon traded very reliable and are always trying to help the customer definitely buying again from them
Edward B.

United States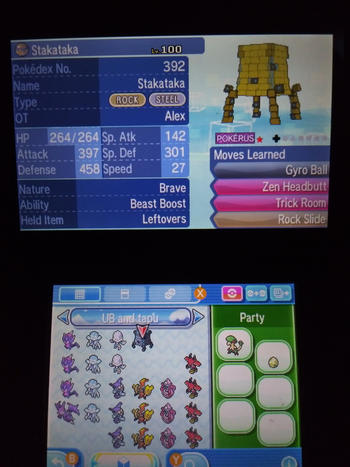 02/09/2020
I recommend this product
Incredible
For some reason I didn't expect the incredible customer service that I experienced throughout this process. I finished wanting for nothing. With this order I also got the other 10 UBs all shiny and now my UB box is finally complete! Thank you pokefella!
Alex M.

United States
05/26/2018
Everything I needed
Was irked that I just couldn't get one of these bad boys in the game beyond the first two. As I wasn't aware of this I couldn't get a good nature on my preferred UB Tank - The Stakataka from here was everything I needed 8)
05/25/2018
Was irked that I just couldn't get one of these bad boys in the game beyond the first two. As I wasn't aware of this I couldn't get a good nature on my preferred UB Tank - The Stakataka from here was everything I needed 8)
POKÉMON GAME VERSIONS SERVICEABLE BY POKÉFELLA