Kyurem • Competitive • 6IVs • Level 100 • Online Battle-ready

Kyurem

POKEFELLA BUILD
Kyurem @ Metronome
Ability: Pressure
EVs: 252 SpA / 6 SpD / 252 Spe
Timid Nature
- Ice Beam
- Earth Power
- Roost
- Substitute
If you want a build other than what is shown here, you can choose the listing Any Custom Pokemon. 
USEFUL LINKS
Customer Reviews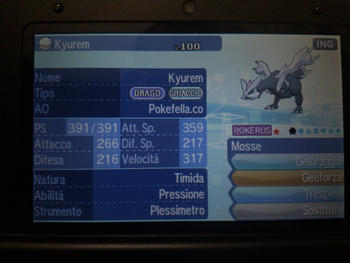 06/03/2020
I recommend this product
Seriously transaction
It's my second purchase on this web, and I like more than first, communication was quickly and efficiently, clearly the pokemon is like you ask for. Great job!
Alan A.

Italy
POKÉMON GAME VERSIONS SERVICEABLE BY POKÉFELLA