Solgaleo • Competitive • 6IVs • Level 100 • Online Battle-ready

Solgaleo

POKEFELLA BUILD
Solgaleo @ Choice Scarf
Ability: Full Metal Body
EVs: 252 Atk / 6 SpD / 252 Spe
Jolly Nature
- Sunsteel Strike
- Earthquake
- Stone Edge
- Flare Blitz
If you want a build other than what is shown here, you can choose the listing Any Custom Pokemon. 
USEFUL LINKS
Customer Reviews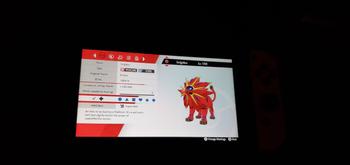 05/18/2020
I recommend this product
Great service!
Everything is exactly what I was expecting. Never had an issue using this service. Will continue to use. Very fast, never had to wait longer than 20 minutes for an order completion!
Austin B.

United States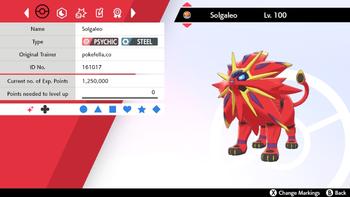 03/23/2020
I recommend this product
Got the pokemon battle ready
very fast delivery got it in 3 hours . i have used them in raids and online battles works just fine so i would say they are good if u purchasing from here. bought 2 of them 1 shiny and 1 non shiny all working great. thanks.
Saahil R.

India
POKÉMON GAME VERSIONS SERVICEABLE BY POKÉFELLA